N A M A S T E
Hey loves, with Valentines Day in less than a week, it's the perfect time to do a little shopping and decorate your home!  Valentine's is traditionally full of romance, roses, red, and yesss Versace on the floor!   Setting the mood when interior decorating for Valentine's day should be focused on romantic, sensual colors.  Using fabrics, that are seductive, and sensual to touch.  Versace uses bright prints, flashy colors, wonderful fabrics like silk to execute irresistible designs.   Join me as I show you my Valentines Day inspired interior styling mood board which is a mixture of seductive passionate elements, bold colors, and gold accents!  All of these decor items have been meticulously selected that will individually or collectively styled create a romantic, seductive space.
But First, Some Tea: VERSACE HISTORY
Versace was founded in 1978 by designer Gianni Versace, an Italian born native.  Versace's logo the head of Medusa was created and inspired by his upbringing as a boy, as he often played on the floor in the palace ruins in Rome where her face was engraved.  Versace used Medusa as the logo and believed she possessed the power to make people fall in love with her and when they did, would have no way back.  Versace hoped his brand would have that on people.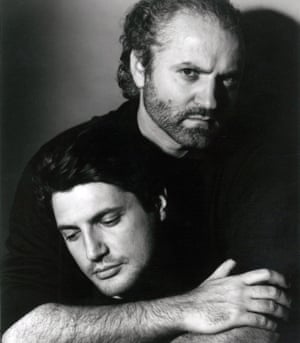 FUN FACT: Did you know Versace was gay.. know your brands loves!
CarpeDiemArtt Approved
1stdibs
I was absolutely intrigued by this radically designed sofa resembling a pair of lips for valentines day,  Shop this Red Velvet Sofa with Solid Mahogany Wood Structure for a mere $55, 000!  
Versace Home: La Mini Coupe Silk Pillow 
This pillow is soft and suitable to be accented on almost any color chairs or sofa, I used red on my mood board.  You could even use royal blue, a golden yellow, ultra violet.. be creative.  
Touch me, tease me, put your hands around me!  Get this glorious ceramic golden hand at  Zgallerie   
 Valentine Day wouldn't be complete without a lovely arrangement of flowers, my favorite for this occasion is red roses.  If you're like me an are single and don't have anyone to buy you flowers my dear ...buy your own!  Real Queens make Queen moves! #selflove Personally I buy at least a plant a month!    
 I love this Impressive Sputnik Chandelier as light radiates from a central point, reminding me of the love being shared this Valentines Day as love is the central force of life!  Get this a 1Stdibs for a mere $15000! 
Versace: Le Vase Baroque Velvet Pillow
Looking for texture this Valentines Day, try this velvet cushion its a  great way to add a sensual feel to that bland looking sofa.  
Smoke in style with this Verasce: I Love Baroque Ashtray.   It's a must have accessory my smokers on Valentines Day, do you think its too cute to use?  Comment  down below!
Black cowhide is the perfect rug to use to accent this space. Just because it's Versace doesn't mean you have t
o overkill it.   I
 would rather this textured rug to add another dimension to the room.
This Versace Medusa wall scone is a luxurious way to add light to any space, with the simple emblem of the brand.  Get yours today racking as this scone racks in at $6,000!
I am in love with the Evolution Side table, the bold geometric shape, and sleek flat top allow it to be an artistic yet functional piece.  Paired with the Versace lamp is a combination made in heaven.   
1stdibs: Gilded Cylinder Lamp is flawlessly crafted from top to bottom!  Click to find out the price!! 
Versace: Smoke In Your Eyes Incense Burner is a chic way to hide those ashes!  
York Wallcovering 
A cheap and affordable way to achieve this bold monochromatic imprint, click the link above.
Cop a cute original print to go with your space.. love these lips they scream lustful, luxurious, love!  
Jonathan Adler's Gold Finger Lounge  Chair Oyster is sexy and sleek!  Don't sleep on white and gold when choosing Valentine's Day colors, it doesn't all have to be red!   
You can never go wrong with too many 
pillows!
  This solid black Versace pillow is silk detailed and 
versatile
 and can be used for sofas, chairs, and beds! 
My loves, I hope you enjoyed this Versace On The Floor inspired room!  The decor in this room totals over a small $80,000!  Decor never looked so delish, comment down below and don't forget to check out the new decor line! 
"Seize the Day" 
Dani   †


PS. WRAP IT UP and
PSA
 GET check up on it LOVE!